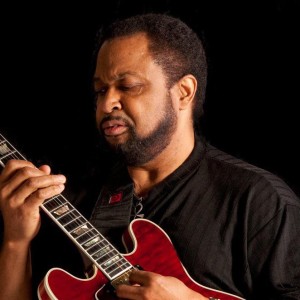 James "Tootie" Hogan is a professional jazz & R& B Guitarist. He was born in New Haven, Connecticut, but at a very tender age he moved south with his family to Mount Holly, North Carolina.This is when he discovered his gift for music, through the influence and direction of his father whose passion and position was planted in gospel music. His talent were nurtured in the church under his Father's direction, he learned to play the piano and bass guitar but his passion and power would be found when he began to play the lead guitar.  Tootie's talents found a spotlight as a lead guitarist, a position that would prove to shape the solid musical foundation for his career.
During the 70,s and early 80,s Tootie performed and traveled extensively with various well- known national musicians. He performed professionally with the following groups: The Drifters, The Tams, The Cornelius Brother & Sister Rose, The Chairman of the Board, featuring General Johnson, Junior Walker & the All-Stars, Hank Crawford, Eddie Floyd and Maurice Williams & the Zodiacs. He also toured with Roberta Flack worldwide, mainly in Japan, the Philipines, Australia, Spain, England Canada and the Bahamas. While working with Roberta he appeared on the Johnny Carson Tonight Show; opened for jazz trumpet player Miles Davis in the Madison Square Garden in New York City, and shared the stage with the spinners, Lou Rawls, Little Richard, Clarence Carter,the Platters, Major Lance, The Coasters, Lynn White, Joe Tex, Mary Wells, Martha & the Vandellas, Betty Wright and he opened for vocalist Lenny Williams & comedian Tyler Craig in Spartanburg, SC, just to name a few.
Tootie also opened for national recording artists such as Fat Burger on June 20, 1998, Norman Conners, Angela Bofill, & Marion Meadows. He performed with sax player Gene Walker at the Toledo School of Art Clinic as well as in Myrtle beach, SC, with The Tams on the show with the Barkays & Eddie Money, Black Family Expo in Charlotte, NC, Columbus, Ohio, Knoxville, TN and beyond. He shared the stage with Franki Valli & the Four Seasons, Mother Finest, Tyrone Davis, Williams Bell, Candi Stations, Archie Bell & the Drells.
Later Tootie became the music director & lead guitarist for A Good Man is Hard to Find; a national gospel play. Since then he released three albums, one of which was called Dreamin' at Midday on Depriest Records. It received excellent reviews and exposure on one of the nationally known jazz radio stations throughout the USA. On February 15, 1997  Tootie opened up for Rev Jesse Jackson celebration of the 37th anniversary of the "sit- in movement " in Greensboro, NC.
I should also mention the release of his second album written and arranged by Tootie called Last Flight Out. this second album is a treat to all his fans. Reviewers said, "You can't help but admire his style and astonishing originality on his instrumental, the rebirth of Gilligan's Island. Yes it is extraordinary at the beginning of the tune; only a true musician could indentify the origin of this tune; His third & latest CD is Final Destination has been released and everyone seems to LOVE it .
Today Tootie has his own four- piece band, which is comprised of drums, bass guitar, keyboards and himself on lead guitar.